A new day, but with the same hard dry cough.
We breakfasted at 7:00 a.m., and then I took my antibiotic, and I went back to bed. I wanted to store up as much energy because, according to our set-in-Wisconsin itinerary, today in Madrid was Prado day. I knew I wouldn't be returning to Spain any time soon, so today I would visit the Prado or accept as fate that I would never have a chance to visit the world's greatest collection of Goya paintings.
We must remember here that I grew up in New Jersey, and as a teenager, I worked in a supermarket that catered to a large Hispanic clientele: Cubans escaping the Castro regime, and Puerto Ricans seeking a better life in these northern climes. The A & P I worked at had a long aisle devoted to Spanish foods, including two long shelves stocked with Goya brand products. Each Goya label reproduced one of the master's paintings. And I loved them all–all those Spanish beauties in their lacy head-dresses and scarves; all those courtly gentlemen in their majestic uniforms; all those peasant heroes fighting for freedom. I loved stocking the Goya line almost as much as I loved doing the aisle of detergents, which was by far the most colorful of all supermarket aisles, and still is.
These Goya tins may be an object of my imagination, however, since I cannot furnish any proof of their existence. I have searched high and low on the internet and found no evidence of their existence. I've slogged through pages of Google Search Results; I've tried finding the picturesque cans on ebay; I've used other search engines. I've found plenty of delightful pictures of Goya brand foods in cans with Goya's distinctive label, but none had any of the painter's great works, and yet I know in my heart of hearts that I shelved such cans when I was a stocker for the A & P.
In any case, no sickness was going to prevent me from my duly self-appointed task: to visit the Prado. And oh what a visit. Mr. Skelly, Anna and I were escorted to the Museum by our personal, local tour guide, Al, ever available, ever helpful, and with a knowledge as wide as it is deep. He walked us to the correct door for entree with our pre-arranged tickets. Before we got there, I had to stop and take a picture from beneath a grassy knoll that climbs from the Prado walkway to a church overlooking us, where we stood.
We passed without hitch through the Museum's security, found the floor plans and made our way the Spanish painter we wanted to see.
The layout of most museums never made much sense to me. Even armed with a floor plan, I find the great museums Anna and I have visited in New York, Chicago, Paris and Kenosha to be confusing. Rooms seem to flow into other rooms without much transition as if gallery designers have no idea of what a corridor could do; they simply line up room after room–and worse, they assign room numbers that hardly seem consecutive and then fail to consistently post those room numbers.
The Prado is a big place. BIG! And it has a huge collection of exquisite works, and so, as Mr. Skelly wisely pointed out, you find yourself quickly moving through a room of masterpieces, hardly noticing the wonders surrounding you. As a case in point, when Anna and I visited the Louvre, we couldn't understand why other visitors were running past us as we slowly walked through the gallery of Renaissance art. We soon found out. People ran frantically to get to the Mona Lisa, which is wonderful to look at and it's famous, but it's nothing compared to the great paintings by, say, Montegna.
So we're in the Prado with a mission to see the Goyas and the Grecos, but we're walking through the splendors of other artists. So we tarried and saw things we hadn't thought we had time for. things such as Bosch's Garden of Earthly Delights:
So, out of necessity we let ourselves slowly progress toward the Goyas. Albrecht Durer has long been one of my favs, but I had never seen any of his works except in reproductions, in books and online. But the Prado owns a Durer Self-Portrait:
One of the amazing things about this painting and the other Durers nearby is that the surface of the painting is entirely smooth. There are no visible stroke marks, no places where the paint is thicker than in other parts, no lunar surfaces. The painting is an artistic statement, in an untranslatable sense, of how socially important the artist is: Durer is decked out quite elegantly–note the gloves–like any other aristocratic subject of a portrait beside a window with an incredible view. Interestingly, the frame of the Self-Portrait adds a kind of earthly craftmanship combined of carpentry and sculpture that harkens back to ancient architecture: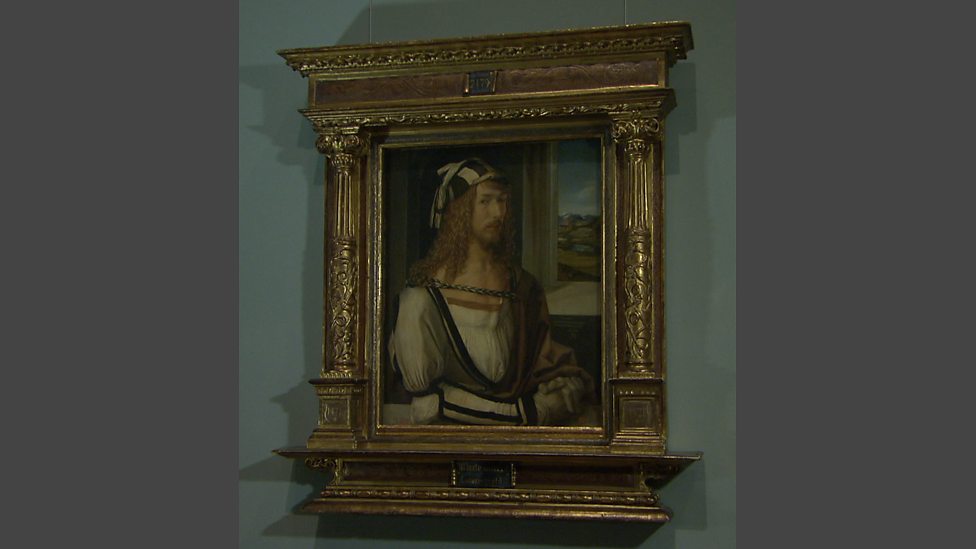 I could go on. The Prado is so big, so full of the art of the world, but I think we should turn to the object of my quest: Goya.
(to be continued.)
so